Tips for autumn decorations in your bedroom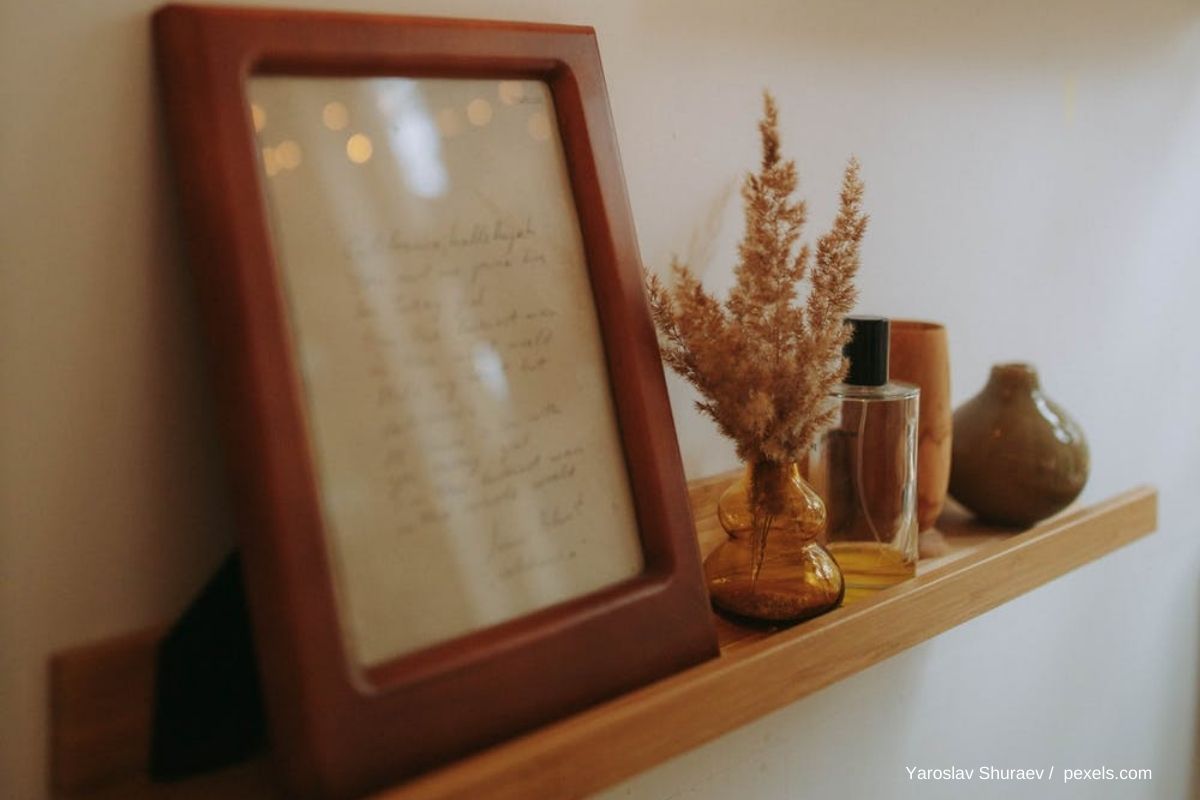 11. October 2021
When summer turns into autumn and the leaves outside the window start to change their colour, it is time to invite the new season into your home. Best of all, autumn decorations for your bedroom do not even have to be expensive. Shiny chestnuts, glowing pumpkins or colourful leaves - if you keep your eyes open during your walks, you will notice that nature has lots of wonderful decorating ideas in store for you. Add the right colour scheme and a few cosy accessories and you can transform your bedroom into an oasis of autumnal cosiness in no time.
Autumn colours - The seasonal colour scheme for your bedroom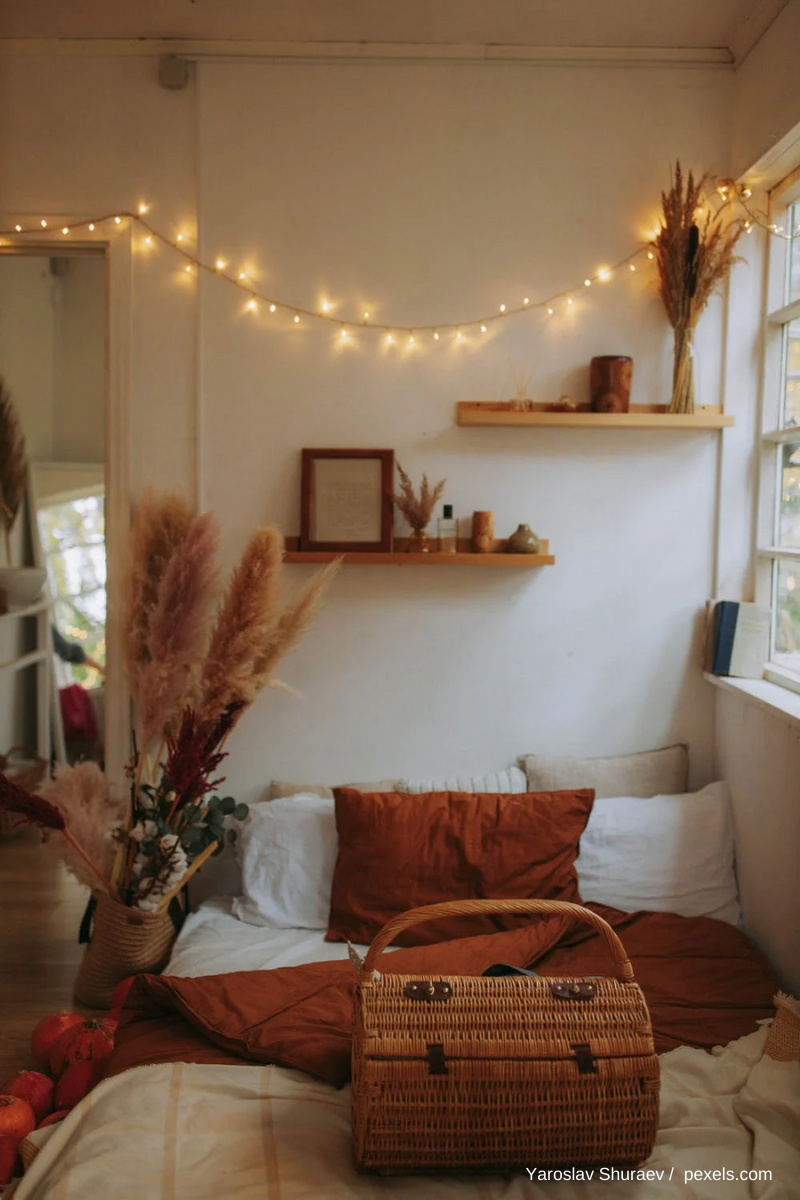 What makes autumn so magical? The bold and bright colours you can see all around you, of course. Colourful leaves glow in shades of gold and red and shine brightly with autumn fruits such as red rose hips and orange pumpkins. Follow nature's example and stick to a specific colour scheme when decorating your bedroom for autumn. Warm brown tones, complemented by accents in wine red and orange, represent the perfect autumnal triad. They convey warmth and a sense of comfort, creating a particularly cosy atmosphere in your bedroom. With a bed covered in brown fabric, you create a great basis for individual furnishing - suitable for every season. You can combine your bed with wine-red bed linen for a wonderfully elegant look. Bright orange is best suited for smaller accessories such as picture frames or a candle on the bedside table. This way, you can set accents with the strong autumn colour without it dominating your entire bedroom or being too stimulating. After all, you want to be able to relax and fall asleep blissfully. 😉
Cosy autumn decorations for your well-being
The cold and wet autumn weather can sometimes be quite uncomfortable. Luckily, you can turn your bedroom into a cosy refuge and block out the autumn rain with plush blankets, faux fur and velvet cushions. These cuddly textures provide the ultimate feel-good-atmosphere and are therefore great for evening snuggles. They give us the security and warmth we long for during the cooler months of the year. Make sure you choose a seasonal colour scheme for your cosy blankets, so that they blend in perfectly with the rest of your autumn decorations. This way, you can create a harmonious overall look which invites you to relax and unwind.
Autumn decorations from nature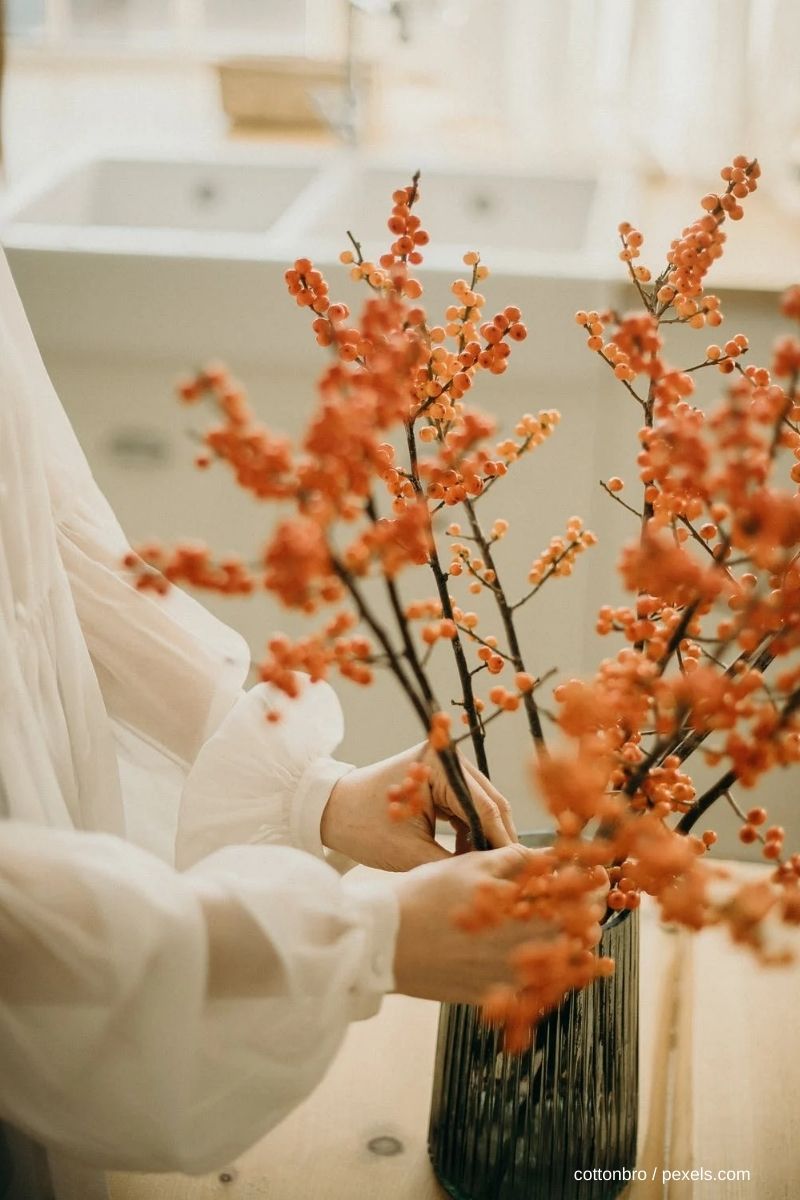 An autumn walk is not only good for the soul, it is also a great way to collect autumn decorations for your bedroom and enjoy the last rays of sunshine at the same time. You will find plenty of inspiration for your interior design in nature. Pick out the most beautiful leaves and twigs and use them to create arrangements at home. Chestnuts can also be found wherever you look, and their shiny appearance is a special decorative highlight. Use them for your seasonal centrepiece or turn them into craft material – Kids love building small figurines from chestnuts. Display the figurines in the children's room, or use them as cheerful decorations for the parents' bedroom.
If you prefer a more romantic style, you can decorate your room with a bouquet of wild autumn flowers. These will be an eye-catcher on any bedside table and also exude a wonderful scent. Bonus tip: To make your autumn bouquet last even longer, you can dry the flowers by hanging them upside down in a dry room. If you only want to dry individual flowers and display them in a picture frame, for example, simply wrap them in kitchen paper and press them dry in a book.
Autumn designs for a comforting atmosphere
Berry branches and delicate leaf patterns on cushions or bed linen create a seasonal atmosphere in your bedroom. Other classic autumn themes such as pumpkins, squirrels or hedgehogs are especially fun for children. However, keep in mind that your bedroom should be a place for rest and relaxation. Combining too many different patterns and colours could therefore be counterproductive. Instead, stick to more discreet autumn decorations in your bedroom, which you can liven up with delicate patterns, and save the more unusual items and gaudier patterns for the living room or kitchen.
How to present the autumn decorations in your bedroom in the right light
The right lighting is the key to feeling completely comfortable in your bedroom. Even the most beautiful autumn decorations in your bedroom will not do you any good if a glaring artificial light destroys the mood. To present your decorative objects in the right light and preserve the autumnal magic in your bedroom, you should therefore prefer warm, natural light sources. Fairy lights provide a subtle glow and lanterns with candles have a particularly warm and cosy effect. You can complement your lighting concept with a dimmable ceiling lamp so that you can choose the desired light intensity yourself.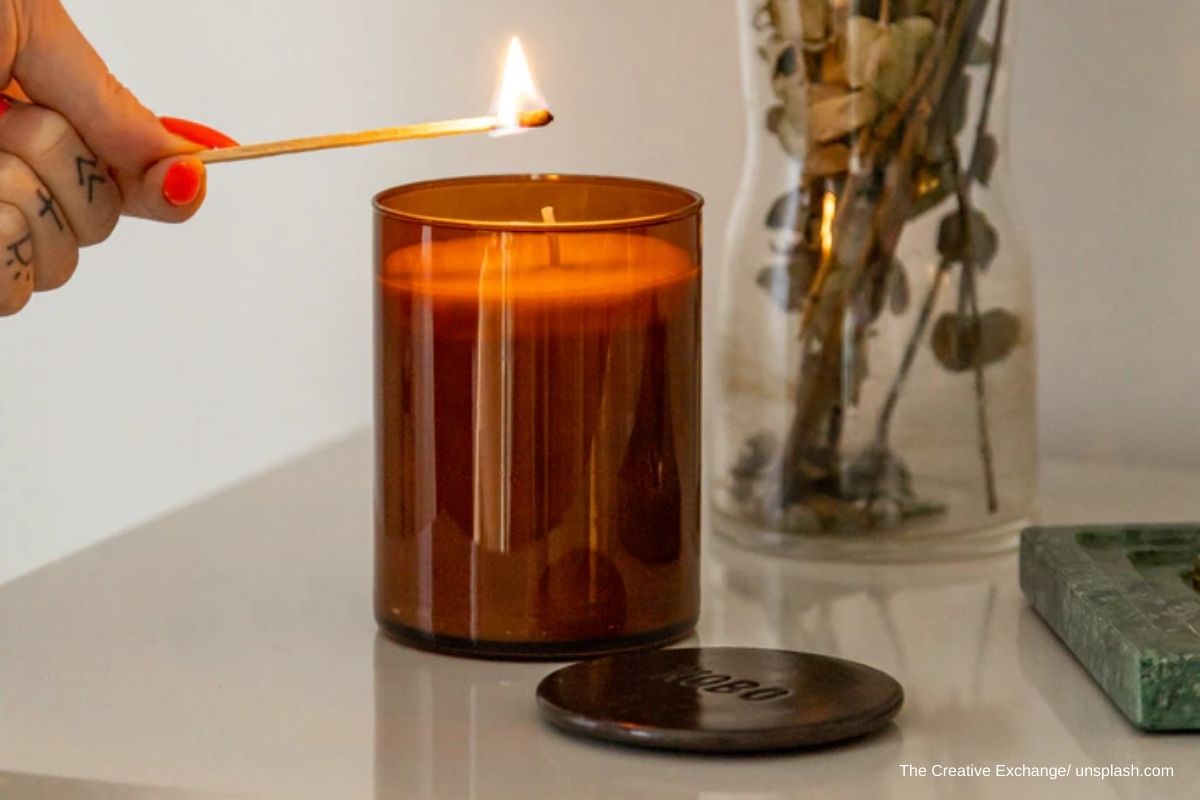 Are you looking for more ideas for the perfect autumn atmosphere in your home? Then our tips for autumnal cosiness are worth looking into. Which autumn accessories will soon be moving into your bedroom to create a magical autumn atmosphere? We wish you lots of fun decorating and relaxing in your autumnal sleeping paradise.
Photo credits:
Yaroslav Shuraev / pexels.com
Yaroslav Shuraev / pexels.com
Cottonbro / pexels.com
The Creative Exchange / unsplash.com