5 fall recipes that you should try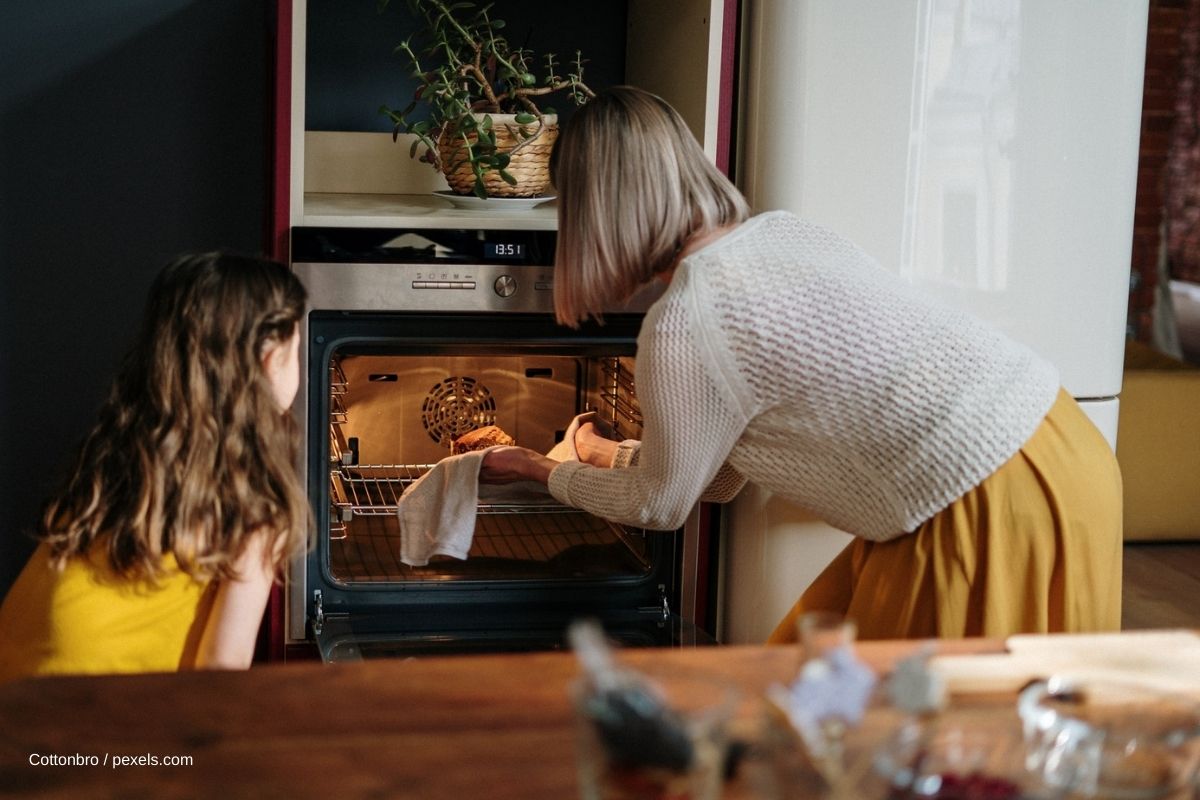 05. November 2021
With its colorful leaves, fall is a real feast for the eyes, but it also has what it takes to be an absolute culinary treat: quince, pumpkin and leek vegetables are the perfect basis for fall recipes that make for warm bellies and a cozy atmosphere. We reveal our 5 favorite cooking ideas that bring the magic of fall into your dining room.
This is why we love fall recipes
When the temperatures drop, dishes that warm you up taste especially good. Creamy pumpkin soup, pan-fried pasta or fruity quince jelly – fall recipes taste delicious with their seasonal ingredients that are refined with exquisite spices. As the harvest season provides us with an abundance of regional vitamins, our immune system is strengthened, and our body gets everything it needs to get through the cold season and stay fit. Make yourself comfortable and enjoy our delicious fall recipes!
Quick fall recipes – Spicy pan-fried noodles with bacon
Especially with the gloomy fall weather, we sometimes do not feel like standing in the kitchen for hours for a special dish. After work, we just want to slip into our comfortable clothes and snuggle up in a warm blanket. Fortunately, there are also quick fall recipes that offer full flavor despite the short preparation time. Our spicy pan-fried noodles are ready in no time and still score with a strong flavor thanks to smoked paprika powder – ideal for warming up the tired body. Best of all, leek vegetables and noodles can be kept in the refrigerator for a long time, so you can buy the ingredients you need in advance and only need to gather everything together quickly when you feel the desire for a hearty fall meal.
Recipe for pan-fried noodles
Ingredients for 2 people
1 package of noodles (500g)
1 leek
2 tablespoons (1/16 cup) of olive oil
2 teaspoons of smoked paprika powder
2 tsp. of paprika powder (noble sweet)
200 ml cream
1 package of bacon (diced)
Preparation
First, heat olive oil in a pan and fry the noodles until they are golden brown. Meanwhile, clean the leeks and cut them into fine rings. Add the leek rings to the noodles in the pan and fry briefly. Finally, add paprika powder and cream, and simmer for a few minutes. In the meantime, fry the diced bacon in olive oil until crispy. Plate up the noodles and garnish them with the diced bacon.
Fall recipes for vegans – Creamy coconut pumpkin soup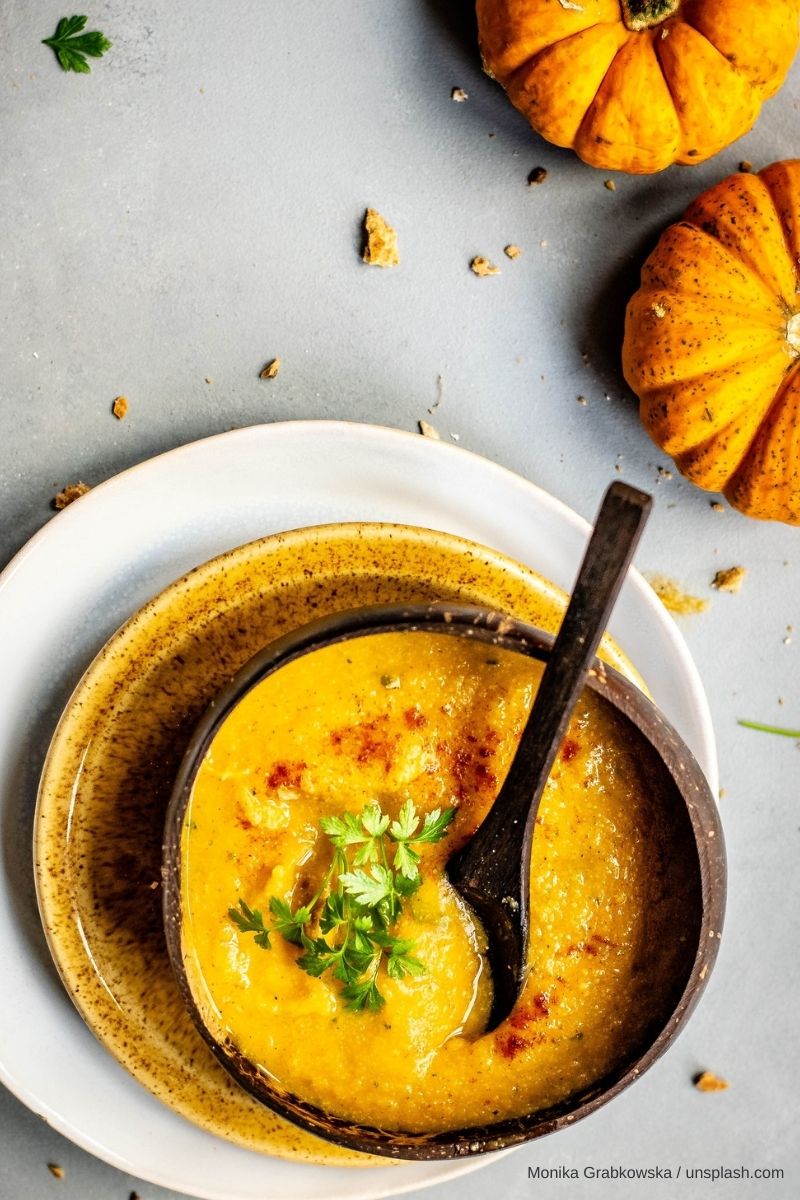 Do you prefer fall recipes without meat? The harvest season offers lots of colorful vegetables that can be turned into delicious dishes. Creamy stews, hearty casseroles, crunchy salads – fall is a great time for creative vegetarian or vegan cuisine. With so many aromatic ingredients, it is sometimes hard to choose. Roasted parsnips or rather marinated mushrooms as a side dish? And for the main course, would you prefer a crispy tarte flambée or down-to-earth hash browns? We decided to share a true classic with you: Pumpkin soup melts gourmets' hearts with its creamy texture and, thanks to the satiating coconut milk, definitely has what it takes to be a main course. It can be modified again and again by using different spices, so that you can discover your favorite variant over time.
Recipe for a creamy pumpkin soup
Ingredients for 4 servings
1 small red kuri squash
1 onion
3 garlic cloves
1 small piece of ginger
500 ml vegetable stock
1 can of coconut milk
1 tbsp. of olive oil
salt
pepper
nutmeg
Preparation
First, peel and finely chop the onion, garlic and ginger. Sauté in olive oil until the onions are translucent. In the meantime, wash the pumpkin, remove the seeds and cut into coarse pieces. Add the pumpkin to the pot along with the vegetable stock and bring to a boil, then simmer over medium heat for about 20 minutes until the pumpkin is soft. Then puree the mixture with a hand blender. Add the coconut milk and simmer for a few minutes until the coconut milk and pumpkin combine into a creamy soup. Season to taste with salt, pepper and nutmeg and serve warm.
No-cook fall recipes – Crisp fall salad with pears and walnuts
Once we have eaten our fill of soups and stews for a few days, we sometimes crave a lighter meal in the fall, too. Fall recipes like our crunchy pear-walnut salad are ideal as a light evening meal, because it puts less strain on the digestion than hearty home-style meals and thus creates the ideal conditions for a restful night's sleep.
Recipe for fall salad with pears and walnuts
Ingredients for 2 people
160 g salad (mix of frisee lettuce and lamb's lettuce)
50 g walnuts
200 g soft cheese
2 pears
50 g grapes
1 tbsp. of balsamic vinegar
2 tbsp. of olive oil
1 tsp. of mustard
1 tsp. of sea salt
pepper
Preparation
Clean the lettuce and fruit. Halve the grapes, cut the pears into small cubes. Cut the soft cheese into thin slices. Coarsely chop the walnuts. Make a salad dressing with the balsamic vinegar, olive oil, mustard, salt and pepper. Plate up the salad, sprinkle with grapes, pears and walnuts. Garnish with cheese slices. Then pour the salad dressing over it. Serve with warm ciabatta bread or baguette with herb butter.
Fall recipes for kids – Fall burger with sweet potato fries
Have your kids not been too excited about your fall recipes yet? Fall classics like turnips, cabbage and mushrooms do not always make children's taste buds happy. Our delicious and mildly spiced fall burgers, on the other hand, are popular with the little ones, too. Served with crispy sweet potato fries from the oven, you will quickly create a fall menu that scores points with the whole family.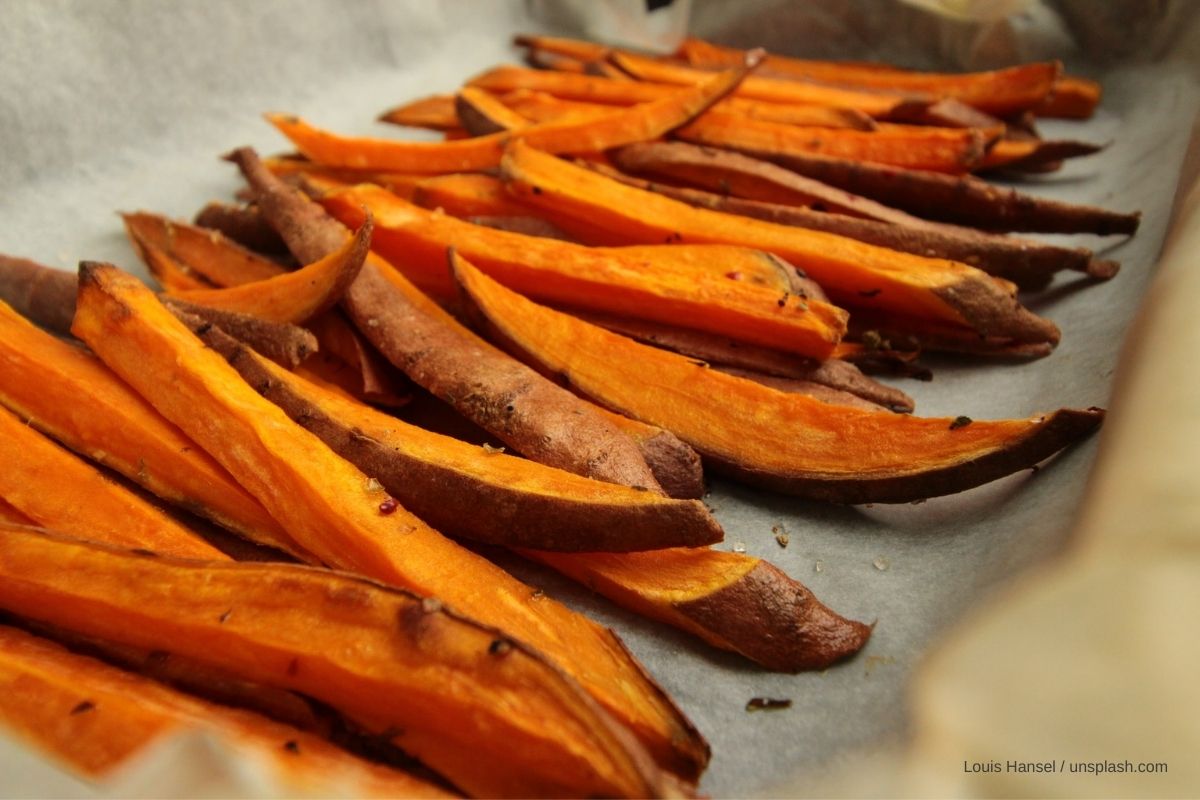 Recipe for a fall burger with sweet potato fries
Ingredients for 2 people
300 g ground beef
1 tsp. of sea salt
1 tsp. of green pepper
2 garlic cloves
1 tbsp. of rapeseed oil
4 slices of cheddar cheese
A handful of lamb's lettuce
1 tsp. of mustard
1 tsp. of ketchup
2 burger buns
1 large sweet potato
1 tbsp. of corn starch
1 tbsp. of olive oil
1 tsp. of paprika powder
1 tsp. of coarse fleur de sel
Preparation
Wash the sweet potato (and optionally peel it), then cut into fries with a knife. Place in a bowl of water and let stand for one hour. After an hour, drain the water, sprinkle the fries evenly with corn starch and mix with olive oil, paprika powder and fleur de sel. Preheat the oven to 250°C top/bottom heat, meanwhile place the fries on a baking tray lined with baking paper. Bake the fries for about 15 minutes (depending on the thickness). While the sweet potato fries are crisping in the oven, place the ground beef in a bowl and mix with sea salt and green pepper. Then peel and finely chop the garlic cloves and add to the mixture. Form into burger patties, brush them with rapeseed oil and fry them in a pan. After about five minutes, turn the patties over, top each with 2 slices of cheddar cheese and fry for another five minutes. In the meantime, toast the burger buns briefly in the toaster. Remove from the toaster and spread with mustard and ketchup. Then top with lamb's lettuce, add the burger patty and place the second half of the burger bun on top. Serve with sweet potato fries.
Fall recipes for the sweet tooth – Juicy quince compote
Starting around the end of September, we can enjoy the glow of golden yellow quinces in our gardens, which can be used to make delicious fall recipes for those with a sweet tooth. What makes our quince compote special is its versatility: The delicious fruits, cooked down with exquisite spices, not only taste great with pancakes or waffles, but also on a bun – instead of using jam – and they make a juicy filling for a quince cake. There really are no limits to your creativity. Turn the fall fruits into your personal favorite sweet treats!
Recipe for a quince compote
Ingredients for 4 large glasses
1 kg quince
0,5 liters of water
1 vanilla bean
0,5 package of gelling sugar 2:1
1 lemon
Preparation
For the quince compote, peel, core and cut the fruit into eighths. Bring to a boil with the water, then continue to cook over low heat until firm to the bite. Using a hand blender, coarsely puree so that pieces are still visible. Scrape out the vanilla bean, add the pulp and bean to the quince compote. Squeeze the lemon and add the juice to the compote, then add the gelling sugar. Bring everything to the boil while stirring, then continue to boil for about 3 minutes until bubbling. Remove the vanilla bean and immediately pour the quince compote into jars that you previously boiled with water, close with a lid and let them cool upside down.
Which fall recipes would you like to enjoy the golden season with? We wish you a lot of fun with our delicious meal ideas!n!
Photo credits:
Cottonbro / pexels.com
Monika Grabkowska / unsplash.com
Liana Horodetska / pexels.com
Louis Hansel / unsplash.com